Washington DC  Maryland ~ Andrews Field
14 Aircraft left Kelly Field at 07.40hrs for Andrews Field (formerly Camp Springs a Fighter Station) and arrived there at precisely 13.00 EST.  One Aircraft TL-H TW878 (F/O Lamb) remained at Kelly Field owing to low oil pressures on the Starboard inboard Engine.  Flying Officer Barker & Crew remained to fly the Aircraft to Andrews Field when Serviceable.  The Flight was the longest leg of the internal part of the Tour, and once again it was very hot (mostly for the 1st part it was 107⁰F in the shade), and everybody landed feeling very thirsty.
Airmail Cover signed by W/C A J L-Craig DSO DFC was only 23 years Old in 1946 and still one of the youngest W/C in the RAF.
Having rested after the 7½hr Flight onward to Andrews Field (Washington DC – Maryland – Formerly District of Columbia) they were entertained with a Garden Party on the Lawns of the British Embassy on Friday the 9th August and followed on Saturday (10th) by Formation Fly-pasts of Atlantic City, Philadelphia, Baltimore & Washington between 13.00 and ? on 10th August, they flew again to Salute President Harry S Truman, flying over the White House in a double V formation of 12 Lancasters as he stood on the Lawn.  Local Navigation was achieved by a Street Map of Washington provided by Esso Petroleum.  An open day was held at Andrews Field during a weeks Residence.  They were welcomed by Gen Carl A Spaatz, (Pronounced Spots) Chief of Staff  USAAF, Lord Inverchapel (Clark Kerr) British Ambassador, who invited them all to a Party at the Embassy on the night of Friday 9th August,  along with Col Curtis D Sluman Base Commander.
W/C A L J Craig's and F/Lt Bullen's Invitations to the British Embassy Washington from Air Chief Marshal Sir Alfred Guy Roland Garrod GBE KCB MC DFC then Permanent RAF Representative on the Military Staff Committee of the United Nations & Head of the RAF Delegation in Washington DC, USA.
The White House and the Capitol were the Target of the RAF Bombing Squadron as 12 Heavy Type Lancaster's completed the last lap of a 6-week mission Known as 'Operation Lancaster or Goodwill'.  Escorted by 2 Fortresses and a Mitchell Bomber carrying Newsmen & Photographers the RAF Lancaster Far Easts's dipped their Wings respectfully towards President Truman's Lawn.  They roared down the Mall in a V of V's formation, out of Pennsylvania Avenue past the Capitol and on to Andrews Field.
The Squadron Commanded by Wing Commander Alan J L Craig, will be feted for 1 week at Andrews Field.  The Flight will proceed Wednesday to Westover Field, Mass., its penultimate stop before returning to England.  The Squadron was honoured by an Open Day (on 10th between 13.00 to 15.00hrs and a Gala Beach Party at Chesapeake Beach with a Picnic Supper Dance at the Officers Club Andrews Field.  The following day 40 Air Attaches, British Service Women & Members of the British Colony of Washington visited the Base and in the Evening the RAF Guests were saluted by the AAF Band at a Concert on the West Front Steps of the Capitol at 8pm.  The RAF March and other English & Scottish Military Airs were played.  They also visited Bolling Field and attended Dinner Parties & other Functions.

Bolling AFB has served as a Research & Testing Ground for new Aviation Equipment and its 1st Mission provided Aerial Defence of the Capital.  It moved to its present location, along the Potomac in the City's Southwest Quadrant, in the 1930s.   Throughout WW2, the installation served as a Training & Organisational Base for Personnel & Units going Overseas.
W/C Craig DSO DFC talking to ACM Sir Guy Garrod and perhaps his wife (smoking) at the Washington British Embassy Reception with possibly Group Capt RCM Collard in Profile.  His Brittanic Majesty's Ambassador Lord Inverchapel (Clark Kerr) received 500 Guests at an al fresco Party in the charming Garden of the Embassy.  Refreshments were served from tables under bright Marquees in the Lawn & Guests strolled about the lovely terraces under great old trees.
Music was played by the USAAF Band from a vantage point in the Grounds.  Officers at Andrews Field arranged a Festive Dance on the evening of the following day with numbers of pretty young ladies as Partners.
No.35 Squadron Personnel were taken on a weeks Tour of Washington, which included Capitol Hill, The Pentagon, The White House and the Washington Memorial. They were entertained at:
The British Embassy & The Department of Justice
On August 11th the Squadron Aircraft were Visited & Inspected by a number of Air Attache's

A Visit was arranged to the Fairchild Aviation Corporation (Flying there in a Fairchild Packet C82)  They marvelled at this Cargo Aircraft which could take off in 550ft of Runway and climbed literally on its Tail.

Fairchild Aircraft Plant Works at Hagerstown, Maryland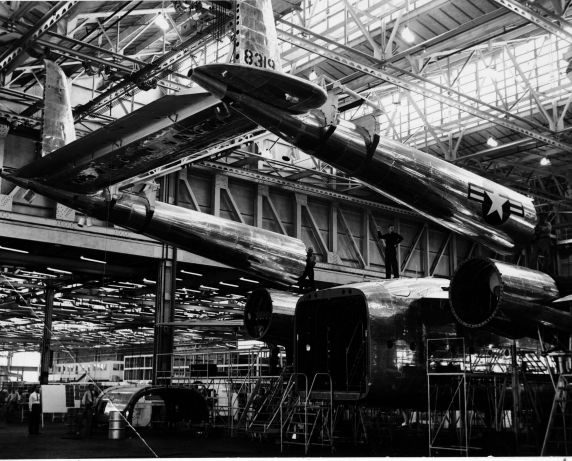 Leaving Washington, Andrews Field at 12.35hrs they flew in Formation over Springfield, & Hartford. but had to pass up Manoeuvres over Boston because of poor Weather conditions (however they were to fly in Formation over Boston on Sunday at 09.30 if Weather permitted – Of course any visit must include Boston which was completed later in the Tour).  Also Flying over Worcester landing at Westover Field,  Chicopee Falls, (nr Springfield) Massachusetts on August 14th at 16.00hrs.